HELLO TO OUR PLAYERS!




Reduced Prediction Pool this week on account of UEFA Euro Champs Under-21 Qualifying Matches being played on Friday. Interesting to see Under-21 having such an effect across ALL Leagues.




WEEK 4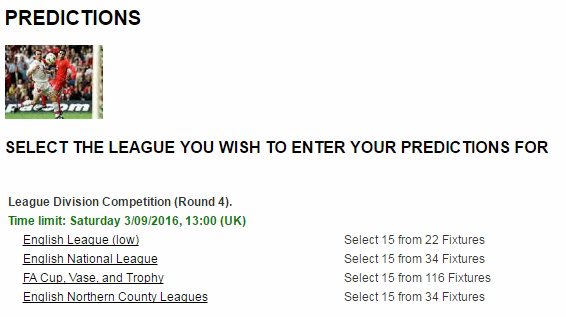 TOP 20 - WEEK 3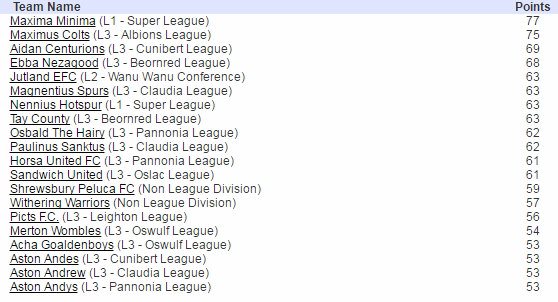 NEW LEADER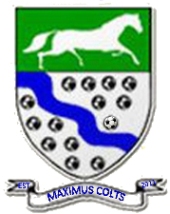 Keith Goh's
Maximus Colts
hits the lead in moving from 31st Position, courtesy of his 75 for the week.
Of note is that
Dave Winfield's
Maxima Minima collects the prize for the week of €75.00 in notching 77 Points and moves from 125th to 5th on account of same.
However, a complication has set in where the ever-vigilant and competitive Nick of ZA has lodged a legitimate Appeal on his Teams' treatment of last week.
Nick does the right thing in positioning his Teams @ AUTO PILOT in case he is unable to do the study he always does before listing his preferred Predictionsfor the week.
At this end, we ran
AUTO PILOT
twice in error, leaving Nick's
actual
bets in place but overriding his Predictions for the week.
Nick's
Actual Scores listed for Week 2 > Jutland EFC = 47 > Magnentius Spurs = 27 > Nennius Hotspur = 47 > Tay County = 14
Based on inputs,
Nick
is owed > Jutland EFC = 6 Penalty Points > Magnentius Spurs = 26
Penalty Points >
Nennius Hotspur = 6
Penalty Points >
Tay County
Penalty Points >
39.
Above increments will be made and shown in next week's Overall Standings.
From this point
AUTO PILOT
will run once only to avoid same happening again.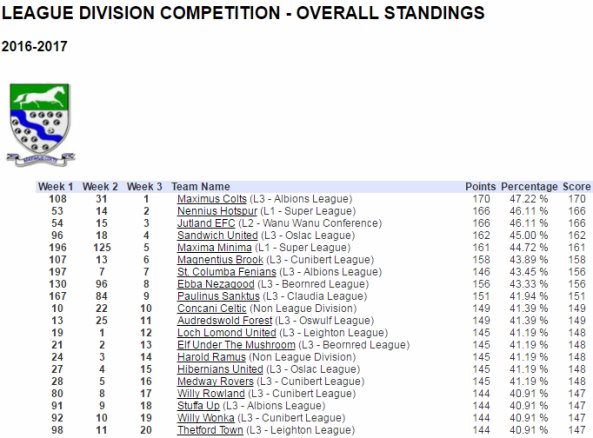 Take note below that UNPAID BALANCE has been converted from $AUD to € and will be displayed as € from this point.
Logic employed is to commit to offering Prize Money across our Competition to attract new members. As time passes, we are hopeful that our Prize Money offering will get around in the vast ocean that the Internet is.
Other forms of Marketing are expensive + procured without any certainty of Success.
The fact that we have arguably the best Content on offer throughout should already have led to a breakthrough but just how does a website like ours get there?
Other work will be done over time to improve on mobile optimization along with supplying an APP. Still much to be done but determination is the key!
PRIZE MONEY of €10,000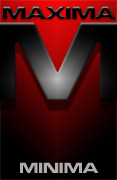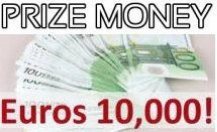 WEEKLY HIGHEST SCORE = €75.00 X 38 WEEKS
PHASE ONE & PHASE TWO SUPER LEAGUE = €750.00
EURO COMP = €500.00
PHASE ONE & PHASE TWO BEST OVERALL = €750.00
FA CUP WINNER = €750.00 & RUNNER UP = €350.00
LEAGUE CUP WINNER = €500.00 & RUNNER UP = €350.00
DOMINION WINNER = €500.00 & RUNNER UP =
€
250.00
WEEKLY HIGHEST SCORE = €75.00 X 38 WEEKS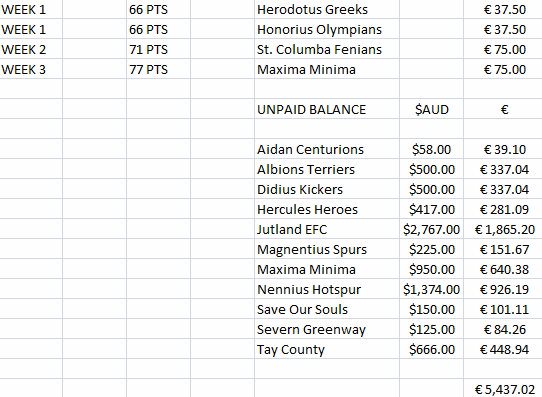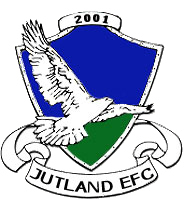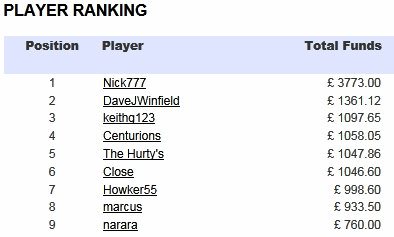 LEADER NICK OF ZA - WEEK 3